Managing your Heating, Ventilation, and Air Conditioning Needs
Heating, Ventilation, and Air Conditioning Equipment
Up Front Pricing
When Chiles Propane Heating and Cooling sends a technician to your home, you can rest assured that you are getting a highly professional and skilled technician who will evaluate and determine the cause of your problem. Our technician will always give you a price quote with options before any work begins so there are no surprises and you know exactly what our services will cost and what work will be performed.
Repair and Maintenance
We service all brands of central HVAC products, including residential and light commercial properties. We offer maintenance and repair of all types of equipment including propane, natural gas and electric. We provide a two-year parts and labor warranty on all work performed by Chiles Propane Heating and Cooling technicians.
Yearly Maintenance
We recommend having a twice yearly maintenance performed on your HVAC system in order for it to run efficiently and dependably. We also recommend changing your air filter at least once a month for normal disposable filters.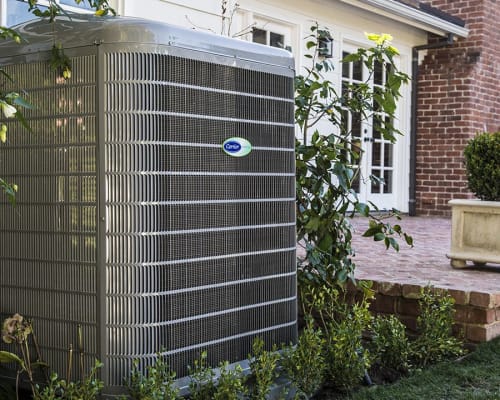 Customer Guarantees
Comfort Guarantee: We guarantee that the system(s) we have replaced in your home will heat or cool your home as we have stated. If the temperature range we have promised is not achieved, we will replace the system at no charge.
No Lemon Guarantee: If the compressor in your air conditioner fails once in the first five years, we will install a complete and new outside unit. If the heat exchanger in your furnace fails in the first ten years, we will install a new furnace.
Property Protection Guarantee: All property such as lawns, shrubbery, carpeting, floors, walls, furniture and door frames are protected. Damaged property will be replaced or repaired. Protective shoe covers and hall runners will be used on all work and traffic areas. If accidental damage occurs, we will have it professionally repaired at no additional charge. Our technicians arrive on time and always clean up after themselves.
Two-Year Parts and Labor warranty on all parts replace or work performed by Chiles Propane Heating and Cooling technicians.
HVAC 21-Point Maintenance Checklist
HVAC 21-POINT MAINTENANCE CHECKLIST
We take servicing your heating and cooling systems seriously, to ensure you have consistent, safe and efficient performance and comfort for your home or business.  We recommend you have your systems serviced twice annually, to protect and extend their life of your equipment, as well as to prevent unnecessary breakdowns or higher-than-necessary energy costs.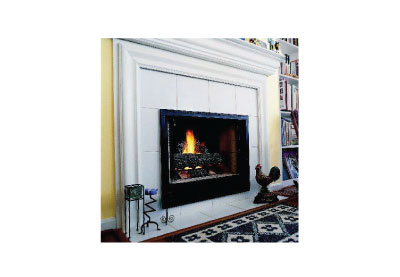 We perform the following checks and maintenance under your agreement with Chiles Propane Heating and Cooling:
Chemically clean and thoroughly wash condenser coil
Clean dirt, leaves and debris from inside cabinet
Inspect fan motor and fan blades for wear and damage – on older models, lubricate as needed
Inspect condenser drain line and clean if needed
Inspect condenser coil for damage
Inspect, tighten and test all electrical connections including disconnect switch
Inspect all cooling system electrical wires, connectors, and terminals
Test system; start and run capacitors
Test all controls, switches, relays, transformers, contactors, motors and fans
Measure starting and run amperes, line voltage and control voltage
Test system-starting capabilities
Check for abnormal noise
Inspect all safety controls
Monitor refrigerant pressures and temperatures
Inspect heat exchanger or heating elements
Inspect evaporator drain pan and lines
Inspect for gas leaks in furnace
Inspect blower assembly
Test and record superheat and sub-cooling; compare with factory specifications
Install a customer-supplied air filter
Complete and present full written report and make any necessary recommendations
The Rinnai tankless water heater is a state-of-the art, energy-efficient water heating system that delivers energy efficiency, endless hot water, and space-savings due to its compact size. It uses a gas-fired heat exchanger to heat water. Rinnai offers various models, so you can make the perfect choice to supply all your hot water needs. And unlike traditional tank systems, the Rinnai system can deliver hot water continuously to multiple outlets at a constant, user-set temperature.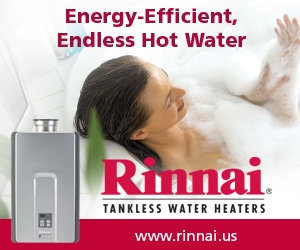 Compact in size, the interior wall-mounted units can be placed in any room and vent directly to the outside. Exterior units require no venting and can even be installed in a recessed enclosure, then painted or textured to match the exterior of your home for a clean, inconspicuous appearance.
Available in natural gas or propane versions, these units can deliver up to 9.8 gallons per minute (GPM) of continuous hot water. They feature direct, electronic-ignition, eliminating energy-wasting pilot lights. Interior mount units require no indoor air for combustion and vent directly to the outside atmosphere, for maximum safely and efficiency.
With a commercial-grade exchanger, Rinnai Luxury and Ultra models can be used for both residential and commercial applications. Homeowners get the reliability of commercial-grade construction and 12-year limited warranty, with an industry-leading 5-year labor warranty.unlike traditional tank systems, the Rinnai system can deliver hot water continuously to multiple outlets at a constant, user-set temperature.
Chiles Propane Gas takes great pride in delivering competitively priced residential propane.
At Chiles, we fill your gas grill tank to the full 20 pounds of propane for which your tank was designed.